The Story of T Amano Trading
---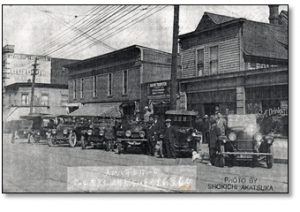 Mr. Teiichi Amano immigrated to Vancouver, British Columbia in 1919. He arrived in his new home with an entrepreneurial spirit and a willingness to seize new opportunities.  It all began when Mr. Amano partnered with his brother to purchase a fleet of trucks, which they used to open a Transfer Company.  In doing so, they quickly learned that there was a large demand for Japanese food products which presented an opportunity in importing the products from Japan.  Through their strong connections in the Japanese Canadian community, Amano Brothers Ltd. was born.  They dedicated the company to supplying premium Japanese food products to the Greater Vancouver area.
Amano Brothers Ltd. flourished for many years with the increasing support and growth of the Japanese Canadian community.  Unfortunately, the company was faced with conditions requiring it to adapt and evolve.  As tensions leading up to the Second World War grew, food products coming from Japan were becoming extremely challenging to obtain.  Rather than allowing this to be a threat to the business, Mr. Amano began to produce some of the staples in Japanese food products, miso and soya sauce.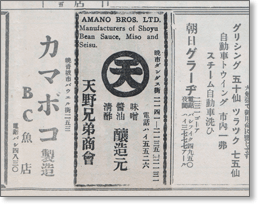 As World War II began, it was not easy on the young company.  In addition to the challenges in the city, the government closed down many Japanese owned businesses, including Amano Brothers Ltd.  All operations were immediately closed and Amano Brothers Ltd. was forced to relocate to Revelstoke, British Columbia and start from the ground up.  Mr. Amano was determined to keep the business alive, and did so by producing small amounts of soya products.  Due to Mr. Amano's determination and dedication to the business, the company survived the war and post war, ultimately re-establishing in Vancouver.
Today the company is composed of two distinct companies, Amano Foods Ltd. and T. Amano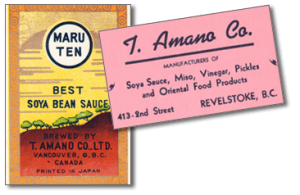 Trading Ltd.  Amano Foods Ltd. is located in Richmond where the production of our premium soya products takes place.  T. Amano Trading Ltd. is located in Burnaby and is the wholesale company which is the primary distributor of Amano brand products, as well as many other premium Japanese food products.  Both companies have remained in the hands of the Amano family and are being operated by the grandchildren of Mr. Amano.

T. Amano Trading Ltd. maintains a proud heritage of providing unmatched quality and service.
Just as the founder, Mr. Amano did for so many years, we look forward to being your primary source for the highest quality Japanese food products.